A United Church of Christ Serving Kauai Since 1835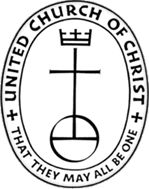 Come Worship with Us
E Komo Mai! (Welcome!) to Koloa Union Church
We are followers of Jesus with a distinctly Hawaiian identity. Some of us are descendants of the native people of these islands and we celebrate with the language and customs of our ancestors. As an inclusive community of faith, reflecting the diversity of the people of Hawai'i, we respect all cultures and backgrounds.
Our mission is to embrace, enhance and nurture God's diverse and unique faith community, all to the glory of God.
Whoever you are and wherever you have been on life's journey, you are welcome here!
Church Location:
3289  Poipu Road, Koloa, HI
We are located in the heart of Koloa on Poipu Road between Old Koloa Town and Koloa School and Library. As you are driving along Poipu Road, you'll see our church set back from the road between the large monkey pod trees. It is a lava rock church with a large white cross in the window. Parking is available in the front and south side of the church.
Mailing Address:
P.O. Box 536, Koloa, HI 96756
Directions from Old Koloa Town:
From Koloa Road, turn onto Poipu Road by the Texaco Gas Station. As you drive on Poipu Road, look to your right in about a block and a half.
Directions from Kukuiula (The roundabout where Poipu Road runs into the Shops at Kukuiula):
Exit the roundabout onto Poipu Road towards Old Koloa Town. As you drive on Poipu Road, look to your left just past Koloa School and Library (& Snorkel Bob's).
Phone: 808-742-6622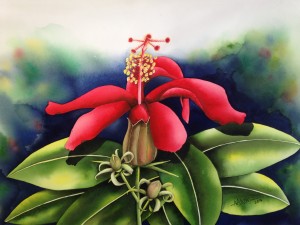 Alan Akana Gallery
______________________________
Koloa Union Church hosts a gallery featuring the works of Kahu (Pastor) Alan Akana. The gallery is just around the corner from the church at 3281 Waikomo Road in the historic Smith Memorial Parsonage, a beautiful building on the grounds formerly owned by Congregationalist missionaries. Proceeds from sales at the gallery support the maintenance, upgrades and repairs of the parsonage. Dr. Akana has been watercoloring the flowers of Hawaii since 1993 and features his work of nearly a quarter of a century. Gallery hours are 1 to 5 p.m. Sunday through Thursday. See www.alanakanagallery.com to learn more about the gallery and Dr. Akana's art.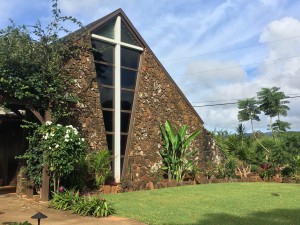 Maika`i Hana Hou!
(Creating Goodness & Beauty Once Again)
CAPITAL CAMPAIGN CELEBRATION!
Sunday, June 10, 2018
Beginning at 10:30 a.m.
Special Guest
The Rev. Gabrielle Chavez
On Sunday, we will celebrate our successful capital campaign! We will give thanks for all of the beautiful improvements on our grounds and in our sanctuary, as well as all of the other accomplishments over the past three years! We certainly have a lot to celebrate! We will also announce the plans and timelines for the remaining projects. Our Interim Conference Minister of the Hawai`i Conference, the Rev. Gabrielle Chavez, will deliver the message on Sunday.
Join us in church and then
for a catered luncheon afterwards…
and invite your friends!
We will be taking a group photo
of everyone in attendance
immediately after the worship service.
__________________________________
OFFICE CLOSED  Monday, June 11 in observance of Kamahameha Day.
KAUA`I FLOOD RELIEF  Koloa Union Church continues to reach out to our neighbors who were affected by the recent flooding on the island, especially our neighbors in Koloa. So far, we have collected $2,961and many items that are already being used by flood victims. We have delivered many carloads of items and gift cards to the Hardware Store in Koloa to most families in the community whose homes were damaged by the flood. Unless needs change, additional money will be used for kitchen appliance purchases and more gift cards. Those who wish to make monetary donations can write checks to "Koloa Union Church" and write "Flood Relief" in the note section. Thanks to everyone who has given so generously so far!!!
MONTHLY NEWSLETTER  In order to save trees and money on increased postage costs, we are offering our monthly newsletter online for those of you who wish to read it on your computer or print it off yourself. Just contact Penny if you would like to no longer receive a paper version of the newsletter; and she will send you a notification each month as soon as the newsletter is uploaded. You can visit our website anytime for the most current and past newsletters.
THE LATEST COCONUT WIRELESS  The Council of the Hawaii Conference of the United Church of Christ shares news on the Coconut Wireless, the regular newsletter of the HCUCC. If you would like to keep abreast on news, opportunities and events, please click HERE for this past week's news. If you like what you see, you may subscribe and get every issue of the Coconut Wireless automatically and get the very latest news hot off the press.
PRAYERS & SQUARES  All are welcome to participate in this ministry of making quilts and prayer squares for those members of our congregation who are experiencing a life crisis. Our upcoming gatherings are scheduled for Tuesdays, June 12, and June 26 at Koloa Union Church from 1 to 4 p.m. For more information, contact Angela Dressel, 808-332-7371.
LECTIONARY READINGS  (Old & New Testament Readings for the Week)  Each week, Christians throughout the world read biblical passages from the Revised Common Lectionary, including the Old Testament, Psalms, New Testament, and Gospels. After three years, a good portion of the Bible is included and the cycle begins again. RCL passages are often read in church worship services, and Kahu Akana usually includes at least one of them on the following Sunday. This week's readings are I Samuel 15:34-16:13; Psalm 20; 2 Corinthians 5:6-17; Mark 4:26-34.
____________________________
COMING UP….
LECTIO DIVINA Join us again on Wednesday, June 13, at the Smith Memorial Parsonage for a time to quietly reflect on the Scriptures. We will meet from 7:00 to 8:30 p.m. for Lectio Divina at the parsonage (3281 Waikomo Road). In Christianity, Lectio Divina is a traditional practice of scriptural reading, meditation and prayer intended to promote communion with God and to increase the knowledge of God's Word.
________________________________
"Weekly News of the Church" is provided by Koloa Union Church, a congregation of the United Church of Christ (UCC), a member of the Kauai Association and Hawaii Conference. Join us at 3289 Poipu Road in Koloa!