A United Church of Christ Serving Kauai Since 1835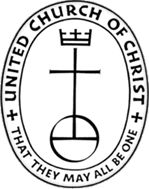 Come Worship with Us
E Komo Mai (welcome) to Koloa Union Church!
We are followers of Jesus with a distinctly Hawaiian identity. Some of us are descendants of the native people of these islands and we celebrate with the language and customs of our ancestors. As an inclusive community of faith, reflecting the diversity of the people of Hawai'i, we respect all cultures and backgrounds.
Our mission is to embrace, enhance and nurture God's diverse and unique faith community, all to the glory of God.
Whoever you are and wherever you have been on life's journey, you are welcome here!
Church Location:
3289  Poipu Road, Koloa, HI
We are located in the heart of Koloa on Poipu Road between Old Koloa Town and Koloa School and Library. As you are driving along Poipu Road, you'll see our church set back from the road between the large monkey pod trees. It is a lava rock church with a large white cross in the window. Parking is available in the front and south side of the church.
Mailing Address:
P.O. Box 536, Koloa, HI 96756
Directions from Old Koloa Town:
From Koloa Road, turn onto Poipu Road by the Texaco Gas Station. As you drive on Poipu Road, look to your right in about a block and a half.
Directions from Kukuiula (The roundabout where Poipu Road runs into the Shops at Kukuiula):
Exit the roundabout onto Poipu Road towards Old Koloa Town. As you drive on Poipu Road, look to your left just past Koloa School and Library (& Snorkel Bob's).
Phone: 808-742-6622
A Scent-Free Environment: We have members, friends, and a kahu who are highly allergic to various scents, often resulting in coughing, sneezing, difficulty breathing and speaking, as well as other symptoms. Heavy perfumes and colognes are particularly troublesome. We are requesting that our church be, as much as possible, a "scent-free" environment during worship services, social activities and meetings. We realize that there is no way to keep all scents away, and we plan to continue having fresh flower arrangements each week and leis for special occasions, but we do ask everyone to be sensitive to the needs of those around them when it comes to perfumes, colognes and lotions.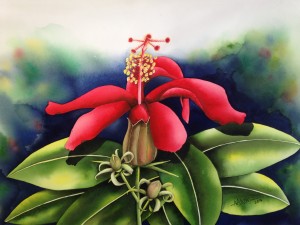 Alan Akana Gallery
______________________________
Koloa Union Church hosts a gallery featuring the works of Kahu (Pastor) Alan Akana. The gallery is just around the corner from the church at 3281 Waikomo Road in the historic Smith Memorial Parsonage, a beautiful building on the grounds formerly owned by Congregationalist missionaries. Proceeds from sales at the gallery support the maintenance, upgrades and repairs of the parsonage. Dr. Akana has been watercoloring the flowers of Hawaii since 1993 and features his work of nearly a quarter of a century. Gallery hours are 2 to 5 p.m. on Sunday and by appointment. See www.alanakanagallery.com to learn more about the gallery and Dr. Akana's art.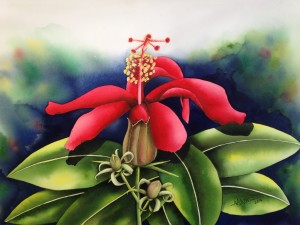 Kanikapila Sunday!
Alan Akana Gallery
Sunday, October 20, 2-5 P.M.
Share a Song!
Bring an Instrument!
Dance a Hula!
Or just come and enjoy the entertainment!
Enjoy Delicious Refreshments!
Reduced Prices on All Merchandise!
Friends Are Welcome!
Click HERE for more info about Alan Akana Gallery!
__________________________________________________
COCONUT WIRELESS  Click HERE to see the latest issue of the Coconut Wireless (the weekly e-news from the Hawai`i Conference of the United Church of Christ).
LECTIONARY READINGS (Old & New Testament Readings for the Week)  Each week, Christians throughout the world read biblical passages from the Revised Common Lectionary, including the Old Testament, Psalms, New Testament, and Gospels. After three years, a good portion of the Bible is included and the cycle begins again. RCL passages are often read in church worship services, and Kahu Akana usually includes at least one of them on the following Sunday. This week's readings are Jeremiah 31:27-34; Psalm 119:97-104 or Psalm 121; Genesis 32:22-31; 2 Timothy 3:14-4:5; Luke 18:1-8.
COMING UP . . . .
ALL CHURCH BREAKFAST  Our next breakfast will be Tuesday, October 22, at 7:30 a.m. Join the church members and friends for a fun, relaxing breakfast at the Holoholo Grill located in the Koloa Landing complex on Poipu Road. Please let Michael Horning or Penny Osuga know if you would like to join us so that we can notify the restaurant ahead of time.
WAINEKE WORK DAYS  The next work days at our Kauai Association Waineke Campground will be October 25 & 26. From 8 a.m. to noon on Saturday, members and friends of Kauai United Church of Christ congregations gather at the Waineke Cabins for vacuuming, painting, washing, yard work, light construction, etc. Those who wish to spend the night (for free) can go up on Friday afternoon and participate in a potluck dinner with others. For more info call 335-3505.
SALVATION ARMY LUNCH   The next time our church is scheduled to serve lunch at the Salvation Army in Hanapepe is Wednesday, October 30. Volunteers who carpool usually meet at the church at 9:30 a.m. Please check in with Suzanne Pearson if you can assist.
FALL `AHA MOKUPUNI  Each year in the fall, the churches of the Kauai Association of the United Church of Christ gather for a time of learning, sharing, worship and a delicious meal. This year's fall Aha Mokupuni will be on Sunday, November 10, 3-7 p.m. at Lihue United Church, 4340 Nawiliwili Rd, Lihue (behind King Auto). This year's theme is "Huakai Me Ke Aloha" (Journey with Love) and the entire event will be intergenerational. Please RSVP by contacting Penny or signing up on the church bulletin board by October 27.
________________________
"Weekly News of the Church" is provided by Koloa Union Church, an Open and Affirming (ONA) Congregation of the United Church of Christ (UCC), a member of the Kauai Association and Hawaii Conference.  Please contact the church office if you would like to have our weekly news sent directly to your inbox. Join us at 3289 Poipu Road in Koloa!