Kahu and Staff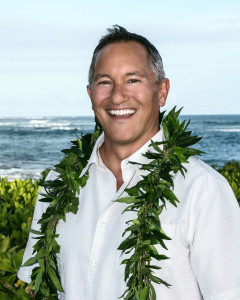 Kahu – Rev. Dr. Alan Akana has been our Kahu (Pastor) since February 2014. He was born and raised on the San Francisco Peninsula where his family settled from the Island of Hawaii in the late 1950's. Dr. Akana is an ordained minister in the United Church of Christ. A graduate of Palo Alto High School, he received his Masters of Divinity (1990) and Doctor of Ministry (1999) degrees from Fuller Theological Seminary in Pasadena, CA. He has spent 26 years in parish ministry in Hawaii, Montana, Utah, Texas, and California.
Dr. Akana also spent 6 years working full-time as a consultant to faith-based organizations, leading feasibility studies and capital fund campaigns. He is also an accomplished artist and published author, and enjoys writing, reading, water coloring, and spending time outdoors.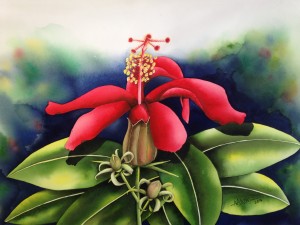 Alan Akana Gallery
Dr. Akana creates original watercolors of tropical florals and the endemic flowers of Hawaii. His work is on display and for sale at Alan Akana Gallery, located in the Smith Memorial Parsonage at 3281 Waikomo Road in Koloa, which is just half a block from the church. Gallery profits go toward the care and maintenance of the Smith Memorial Parsonage. Gallery hours are 1 to 5 p.m. Sunday through Thursday. To see more info about the Alan Akana Gallery, see www.alanakanagallery.com.Greeting cards of his art are also available at Koloa Union Church. All of the proceeds from sales at the church go to a fund to improve and maintain the church's buildings and grounds.
Book by our Kahu
The revised edition of Dr. Akana's book is now available: The Volcano Is Our Home: Nine Generations of a Hawaiian Family on Kilauea Volcano (Bloomington: Balboa Press, 2016). Signed copies are available at Koloa Union Church and at Alan Akana Gallery. A portion of the proceeds from sales go to a fund to improve and maintain the church's buildings and grounds. For more information, visit www.thevolcanoisourhome.com.
808-742-6622 (ofc)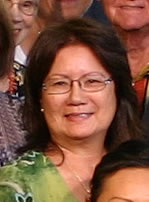 Administrative Assistant – Penny Osuga is a 3rd generation member of Kōloa Union Church, following in the footsteps of her parents and grandparents. She enjoys flower gardening and spending time with her grandchildren. Penny has been our Administrative Assistant since 2007. She is in the office from 8-noon Monday through Thursday.
808-742-6622 (ofc)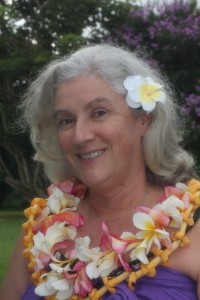 Director of Music – Kathleen Dahill has a B.S. in theater education and a wealth of experience writing and arranging music, as well as accompanying and leading musical groups. She has won several musical awards, including a Mokihana Award for best new Hawaiian song. Kathleen is available during the week by appointment.
Phone: 808-431-4560