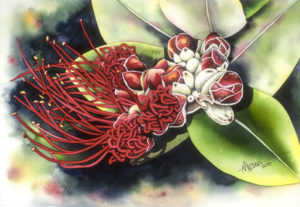 Lehua Blossom from Hawai`i Island
MUSICAL FUNDRAISING GALA FOR THE PARSONAGE
Alan Akana Gallery
Sunday, October 14, 1-5 p.m.
In the Smith Memorial Parsonage
3281 Waikomo Road, Koloa
Everyone is invited to attend this FREE event!
Music and Dancing by Church Members & Friends!
Delicious refreshments!
Door prizes!
Everything on sale on Sunday!
New items will be available, including:
2019 wall calendars
Jumbo postcards of photographs of native flowers of Hawai`i
Kahu's latest watercolor of the beautiful lehua blossom (in the photo above)!
The funds raised will help pay for costs of some much needed projects at the parsonage. Please invite your friends who love music and art!