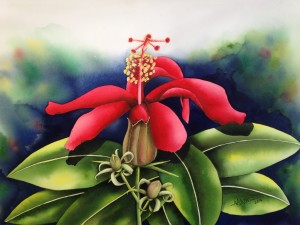 Kanikapila Sunday!
Alan Akana Gallery
Sunday, October 20, 2-5 P.M.
Share a Song!
Bring an Instrument!
Dance a Hula!
Or just come and enjoy the entertainment!
Enjoy Delicious Refreshments!
Reduced Prices on All Merchandise!
Friends Are Welcome!
Click HERE for more info about Alan Akana Gallery!
__________________________________________________
COCONUT WIRELESS  Click HERE to see the latest issue of the Coconut Wireless (the weekly e-news from the Hawai`i Conference of the United Church of Christ).
LECTIONARY READINGS (Old & New Testament Readings for the Week)  Each week, Christians throughout the world read biblical passages from the Revised Common Lectionary, including the Old Testament, Psalms, New Testament, and Gospels. After three years, a good portion of the Bible is included and the cycle begins again. RCL passages are often read in church worship services, and Kahu Akana usually includes at least one of them on the following Sunday. This week's readings are Jeremiah 31:27-34; Psalm 119:97-104 or Psalm 121; Genesis 32:22-31; 2 Timothy 3:14-4:5; Luke 18:1-8.
COMING UP . . . .
ALL CHURCH BREAKFAST  Our next breakfast will be Tuesday, October 22, at 7:30 a.m. Join the church members and friends for a fun, relaxing breakfast at the Holoholo Grill located in the Koloa Landing complex on Poipu Road. Please let Michael Horning or Penny Osuga know if you would like to join us so that we can notify the restaurant ahead of time.
WAINEKE WORK DAYS  The next work days at our Kauai Association Waineke Campground will be October 25 & 26. From 8 a.m. to noon on Saturday, members and friends of Kauai United Church of Christ congregations gather at the Waineke Cabins for vacuuming, painting, washing, yard work, light construction, etc. Those who wish to spend the night (for free) can go up on Friday afternoon and participate in a potluck dinner with others. For more info call 335-3505.
SALVATION ARMY LUNCH   The next time our church is scheduled to serve lunch at the Salvation Army in Hanapepe is Wednesday, October 30. Volunteers who carpool usually meet at the church at 9:30 a.m. Please check in with Suzanne Pearson if you can assist.
FALL `AHA MOKUPUNI  Each year in the fall, the churches of the Kauai Association of the United Church of Christ gather for a time of learning, sharing, worship and a delicious meal. This year's fall Aha Mokupuni will be on Sunday, November 10, 3-7 p.m. at Lihue United Church, 4340 Nawiliwili Rd, Lihue (behind King Auto). This year's theme is "Huakai Me Ke Aloha" (Journey with Love) and the entire event will be intergenerational. Please RSVP by contacting Penny or signing up on the church bulletin board by October 27.
________________________
"Weekly News of the Church" is provided by Koloa Union Church, an Open and Affirming (ONA) Congregation of the United Church of Christ (UCC), a member of the Kauai Association and Hawaii Conference.  Please contact the church office if you would like to have our weekly news sent directly to your inbox. Join us at 3289 Poipu Road in Koloa!