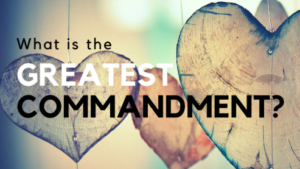 "The Greatest Commandments"
On Sunday, I shared a couple of stories about gay friends of mine who were physically and emotionally tortured. The people inflicting pain believed they were doing God's will, and had Scriptures to back up their actions. I wholeheartedly disagree with their interpretation and use of biblical passages. There are commands in both the Old and New Testaments which are troublesome and conflict with others. I shared some of those commands (and the ensuing punishments) which are so outlandish that no followers of Jesus would ever attempt to follow. People have used the Bible to defend slavery, abuse women and children, and inflict judgment and pain on those who are lesbian, gay, bisexual, transgender and gender-nonconforming.
So how do we interpret the difficult biblical passages—or any parts of the Bible, for that matter? I said in my message that we should first pay attention to Jesus when he gave tha answer to the question, "What is the greatest commandment?" His response was, "Love the Lord your God with all your heart, with all your soul and with all your mind. This is the greatest and first commandment. And a second is like it: You shall love your neighbor as yourself." Since Jesus said that these are the two greatest commandments, it seems clear to me that all other commandments should be seen in light of these two.
Our church is going through the process of moving toward becoming an official "Open & Affirming" congregation of the United Church of Christ. By doing so, we will publicly state that everyone is welcome to worship and participate in the full life of our church. Since many people often struggle the most with welcoming people of "other" sexual orientations and gender identities, I offered a Bible study on this topic on Sunday afternoon so that we could take a look at what the Bible actually says and how we might interpret certain passages. I will be offering an identical Bible study at my home on Wednesday evening this week, February 6, at 7 p.m. I invite anyone who is interested in attending. If you haven't already done so, please let me know if you plan to attend. If you have any questions about the Open & Affirming process or its implications, please don't hesitate to ask.
Aloha nui!
Kahu Alan Akana
__________________________________________
Our Kahu (Pastor) offers a weekly message in church most Sundays during the year. Click HERE to see a video of a recent message from Sunday morning. You may see the Koloa Union Church YouTube channel to see many of his past messages and subscribe in order be notified when a new message is posted. Please share these videos with friends and invite them to church. Please feel free to "Like" any of the videos you see and share them on social media, such as Facebook, so that others will notice them.
"A Message from Kahu Alan Akana" is provided most weeks by the Kahu (Pastor) of Koloa Union Church, a congregation of the United Church of Christ (UCC), a member of the Kauai Association and Hawaii Conference.