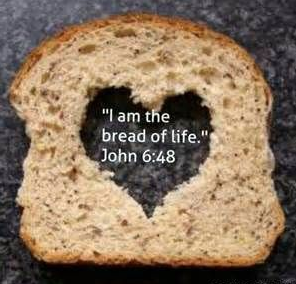 "Bread and Love"
Jesus said to them, "I am the Bread of Life.
Whoever comes to me will never be hungry
and whoever believes in my will never be thirsty."
(John 6:48)
On Sunday, I shared with the congregation about some "word searching" I did during the previous week. I looked up how many times the word "bread" was found in the Gospels. The answer: 58 times. Then I started looking up some other words and was surprised that "bread" is mentioned more than "prayer," "worship," "forgiveness," "holiness," and "righteousness." It occurred to me that bread was a really important subject not only for Jesus but for the Gospel writers who told us about his life.
After checking out a few more words, I finally discovered a word that was found more than "bread." The word "love" is found 66 times in the Gospels. However, since bread is often used as a synonym for "food," I looked up that word and saw that it was used 21 times. So "bread" and "food" are found in the Gospel even more than "love"…which leads me to believe that growing food and feeding people were a huge priority to Jesus. It makes sense that "bread" and "love" are found so many times, for it is love that motivates us to feed one another and to make sure that no one goes hungry.
Jesus used the word "bread" both literally and metaphorically. When he said, "I am the bread of life," he demonstrated that he had compassion for people who were physically hungry and those who had deep longings of the heart; and I supposed that includes all of us, for I have yet to meet someone without longings and yearnings. Jesus—in his being and in his loving—filled the empty spaces in people's lives. May all of your longings be filled, and may you pay attention to the longing of people around you so that you may offer them the same kind of compassion that Jesus offered people.
Aloha nui!
Kahu Alan Akana
___________________________________________
Our Kahu (Pastor) offers a weekly message in church most Sundays during the year. Click HERE to see a video of his sermon from this past Sunday. You may see the Koloa Union Church YouTube channel to see many of his past messages and subscribe in order be notified when a new message is posted. Please share these videos with friends and invite them to church. Please feel free to "Like" any of the videos you see and share them on social media, such as Facebook, so that others will notice them.