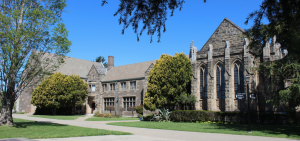 Pacific School of Religion
____________________________________
A Note from Kahu Alan Akana
"Pentecost Sunday"
We had a wonderful celebration on Sunday! We read the story of Pentecost from the Book of Acts and I shared with the congregation some of the key lessons that I learned back when I was in seminary—lessons that came straight from the story of Pentecost!
I learned the importance of "being together." After Jesus' ascension, the disciples were all together in one place. They knew the importance of community and supported one one another in their faith journeys.
I learned the importance of acceptance and hospitality. All of the people who were visiting Jerusalem in the story heard the good news of Jesus in their own language. They didn't need to learn a new language or way of being in the world in order to hear about Jesus or join the community of faith.
Finally, I learned that God's presence is abundant and real here and now. The Holy Spirit was poured out upon all flesh. God's Spirit was not lightly sprinkled; it was poured out—and not just upon a few select people, but upon all.
These lessons and many others prepared me to be the pastor I was to become. I knew that it is good for us to be together—and a big part of my job was to make sure that it was good…and not just for people who speak my language and see the world like I do, but for everyone. If I can help people who come to church and who live in communities surrounding the church to see how God's Spirit is abundant and alive within them and all around them, then I have done my job. If it were not for seminary, I would not have had the important training I received to be the pastor I am today.
I also shared on Sunday about my involvement with Pacific School of Religion in Berkeley, California. As a Trustee of the school and the Chair of PSR's Advancement Committee, I am committed to the well being of the school and making sure that it is well funded for years to come. Sunday was also "Seminary Sunday," and I invited friends and visitors to consider a gift to Pacific School of Religion. Many people on Sunday stepped up to the plate and made a donation to PSR, and I thank you for your support! It means the world to me that you support the education and training of leaders for our churches' future.
If you would still like to make a gift to Pacific School of Religion, please do so by the end of the month. You can drop off or send a check to the church office or make a donation on Sunday. Special "Pacific School of Religion" offering envelopes are available on the counter as you enter the sanctuary. Checks should be made out to "Koloa Union Church" with "PSR" in the note section.
Mahalo nui loa for your support of our church and Pacific School of Religion!
Aloha nui!
Kahu Alan Akana
_____________________________________________________
JOIN US THIS WEEK FOR TRINITY SUNDAY!
Sunday, May 27, 2018
Music, Scripture, Liturgy and Message
Will Reflect Our Understanding Of
God as Holy Trinity
_____________________________________________________
Our Kahu (Pastor) offers a weekly message in church most Sundays during the year. Click HERE to see a video of his message from this past Sunday. You may see the Koloa Union Church YouTube channel to see many of his past messages and subscribe in order be notified when a new message is posted. Please share these videos with friends and invite them to church. Please feel free to "Like" any of the videos you see and share them on social media, such as Facebook, so that others will notice them.