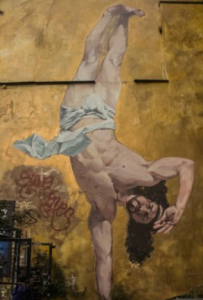 By Cosmo Sarson
"We played the flute for you and you didn't dance."
(Matthew 11:17)
On Sunday morning, I talked about dance as an important part of spirituality for many cultures and religious traditions—including Christianity. I read a poem called "Lord of the Dance," by Jennifer Lynn Woodruff.* Here is the poem she wrote, speaking of Jesus:
He was the Word, a wild and dancing Word,
before the world began; he danced in flame,
and galaxies were born, and songs became
the sinew of our bones, and he was Lord.
He danced in bread and wine, and in the bright
blue fountains of the Water of our birth,
and all the bells rang, and along the earth
the incense of a prayer rose, fresh and light.
He danced in speech, in names that had a power,
in dreams with symbols vibrant and unknown,
and all that was and is and is to come
was whole in grace and worship in that hour.
But we have fenced him in and tied him down;
we think he comes as words and not as Word,
as only what we prove, what we have heard—
not seen, not tasted, and therefore not found.
We preach a thousand sermons, and we lift
a thousand prayers in motions memorized,
and stumble home and have not realized:
the dance is mind and heart—the dance is gift.
He seeks us in the bread we fear to break,
the banners that we lift with trembling hand,
the images we fail to understand,
the steps in God's strange dance we fear to take.
He is the Word, a wild and dancing Word;
he sings; his joy is fierce, his longing deep.
He calls us from ourselves and bids us weep
and dance and worship him, for he is Lord.
The photo above is actually a giant mural painted on the side of a building in Bristol, England. It seems that people all over the world imagine Jesus as a dancing Savior. There are many stories of people finding healing, wholeness, abundant life, and a closer relationship to God through dancing not only for Jesus but with him. Perhaps there is a dance for you to participate in right now.
Aloha nui!
Kahu Alan Akana
*In my sermon, I incorrectly gave credit to Laurie Beth Jones for this poem. She did write about dance and the importance of recognizing that Jesus dances with everyone—even the people in the shadows…the ones nobody else wishes to dance with. My apologies for the mistake.—AA
__________________________________________
Our Kahu (Pastor) offers a weekly message in church most Sundays during the year. Click HERE to see a video of his message from this past Sunday. You may see the Koloa Union Church YouTube channel to see many of his past messages and subscribe in order be notified when a new message is posted. Please share these videos with friends and invite them to church. Please feel free to "Like" any of the videos you see and share them on social media, such as Facebook, so that others will notice them.