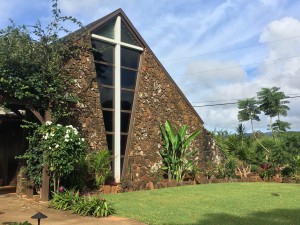 Maika`i Hana Hou
(Creating Goodness & Beauty Once Again)
I look forward to our capital campaign celebration this coming Sunday with great anticipation! After four years of generous giving by members, family, friends and the Vidinha Family Trust, our capital campaign is finally coming to a close. We have accomplished so much together! The overall appearance both inside and outside of our church has truly transformed into a place that is welcoming and inviting to everyone! I hope all of our members and friends of the church who are in town on Sunday will make every effort to come and celebrate! Come and join us for a festive worship service and a delicious catered luncheon afterwards.
During our worship service, there will be special music and dance, a time to give thanks to all who donated to the capital campaign, and much more! I am especially excited to introduce the congregation to the Rev. Dr. David K. Popham, the brand new Conference Minister of the Hawaii Conference of the United Church of Christ. Sunday will be Rev. Popham's first day on the job, and I feel very honored that he has chosen to spend it with us at Koloa Union Church. We will welcome him to Hawaii with a lei and special gift from our congregation. I also look forward to dedicating our beautiful new capital campaign plaque, which will hang on the wall inside the sanctuary. There are also a few final touches that our capital campaign chair Dan Giovanni is finishing up this week that I am certain we will all notice!
Koloa Union Church is really in a great place to move into the future as our new vision unfolds. Our successful capital campaign is a major reason why this is the case! The greatest reason, however, is because people keep showing up every Sunday to worship God and consider how we might carry God's love with us into our homes, neighborhoods, communities and the world. Once again, I feel truly blessed this week to be the Kahu of such a generous and caring congregation of God's people. Thank you for your love and your commitment to God and to the Church of Jesus Christ!
Aloha nui!
Kahu
__________________________________________
Click HERE to see a video of a recent message by Kahu Akana from Sunday morning. You may see the Koloa Union Church YouTube channel to see many of his past messages and subscribe in order be notified when a new message is posted. Please share these videos with friends and invite them to church. Please feel free to "Like" any of the videos you see and share them on social media, such as Facebook, so that others will notice them.
"A Message from Kahu Alan Akana" is provided most weeks by the Kahu (Pastor) of Koloa Union Church, an Open & Affirming (ONA) congregation of the United Church of Christ (UCC), a member of the Kauai Association and Hawaii Conference.